Harmonize, a bongo artist, introduced his new girlfriend a few days ago while she was wishing him a happy birthday. Since the singer broke up with his former girlfriend, Fridah Kajala, the two have been speculated to be dating.
It now appears that Harmonize recently gave his new gf a Range Rover. The babe, who goes by the name Sishkikii revealed in an interview that the red Range Rover she drives was a gift from a special person, bringing this to light. She didn't reveal the name, but we are aware that it is superior.
The vehicle apparently came from Harmonize as a birthday present. On his Instagram Stories, Harmonize revealed that he had delivered her a birthday cake. He posted a picture of a red automobile rather than her picture.
Rumour has it that a few weeks ago, the woman shared a picture of a Range Rover gift she'd gotten for her birthday. It has been assumed that Harmonize gave her the red device. He has a history of giving his women a specific car as a gift. Kajala was awarded two.
In an effort to impress the singer, he bought Kajala a new Range Rover Vogue with personalized plaits bearing her name.
He asked Kajala for forgiveness for his wrongdoings before they parted ways in a video that he released on Instagram while also showing the automobile Harmonize. Despite everything, he insisted that he still loved her.
He purchased another Range in the name of love two weeks after purchasing the first one. Once they split up, there was a dispute over who should possess the two Range Rover vehicles.
Juma Lokole claims that Kajala refused to give back the Range Rover vehicle since Harmonize registered it in her name when he purchased it. When the singer attempted to win Kajala back into his life, he purchased two Range Rovers.
At the time, he said that the vehicles weren't given as payment but as a token of his love for Kajala because he knew they were her ideal vehicles. One of them supposedly went up for sale since the payments had not been made, and the one that was left is currently up for discussion.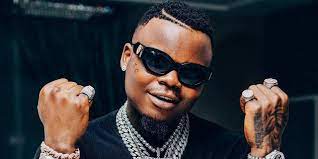 Model and entrepreneur Sishkikii is her new friend. Her post tells you that she is eager to date the singer. Here are some Tanzanians' responses.
This adds to the previous turbulence the musician experienced when his ex-wife asserted her right to a share of his marital estate.