Willis Raburu embarked on a lengthy weight loss journey some time ago, and as of 2023, the efforts he has invested seem to be yielding significant results. In an Instagram post, the TV presenter and host shared the progress of his 1½-year journey.

The path to significant results is commonly acknowledged to require time and patience, a truth that multi-talented media personality Willis Raburu can now unquestionably affirm, considering his recent accomplishments. The TV47 presenter has committed himself to a weight loss journey, and the steadfast efforts he has made are now visibly paying off.
In a recent Instagram post, Willis Raburu posted a brief video clip, providing a glimpse of his impressive body transformation.
This was as the father of two was celebrating 1½ years of being in the weight loss journey.
"When I look at where I have come from. 1.5 years later @nairobibariatric I'm grateful 🙏🏽" he further added as a caption to the video.
In May 2022, Willis Raburu initiated his weight loss journey by opting for a gastric bypass procedure. The TV47 presenter decided on this approach after reportedly trying out several other weight loss methods that yielded no significant results. According to reports, just one week after the surgery, Willis Raburu had already shed approximately 10 kilograms. However, alongside the surgical intervention, he also adopted a new eating plan and diligently monitored his diet as integral components of the transformation process.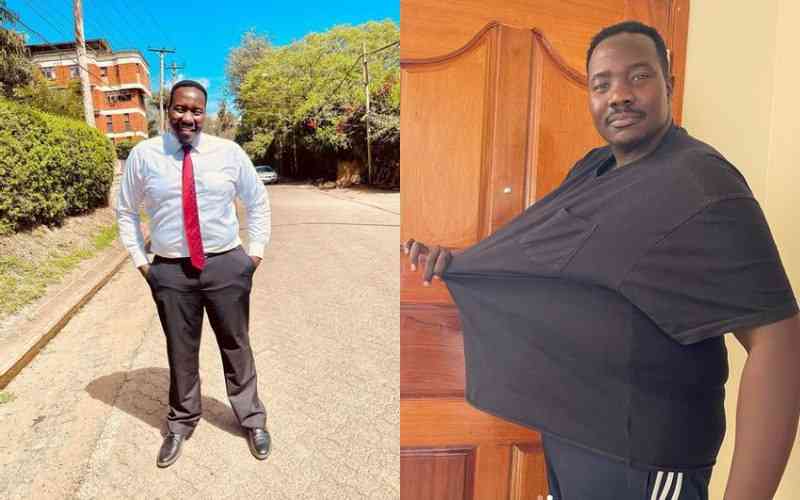 Nevertheless, in December 2022, the father of two shared on his Instagram account the triumphant news that he had effectively lost 30 kilograms. This notable achievement served as a clear and impressive sign that his weight loss journey was indeed producing positive results. During this period, Willis Raburu also expressed that his family took pride in his successful accomplishments in the realm of weight loss.
"I have lost 30kgs and I haven't even started going to the gym. My friends are saying I have lost weight...I am looking smaller...I can now shop in different places, they never used to have my size.
"My dad is happy, my mum is happy, my fiancé is happy and I am happy because when you are healthier you get to guarantee more time with your kids...that was important" he said.
After investing Kshs 900,000 in the gastric bypass surgery, Willis Raburu disclosed how the procedure had aided him in reducing the amount of food he consumes.
The gastric bypass procedure is designed to facilitate weight loss by restricting the quantity of food that can be consumed. In the course of this surgery, the stomach is divided into a small "pouch" that allows food to enter, and a larger remnant of the stomach where food is no longer able to pass.