To help control anticipated anti-government rallies, the National Youth Service Patrol was deployed in large numbers to several areas of Nairobi streets on Wednesday.
Despite being accompanied by armed police, the staff were observed patrolling the streets while carrying batons.
This was part of sending extra police to other areas considered hotspots.
These deployments typically take place on election day. Any gathering that attempted to gather was dispersed by those handling the streets.
The Expressway, which was severely damaged during the protests last week, key roadways, informal settlements, and other locations all received an increase in police presence.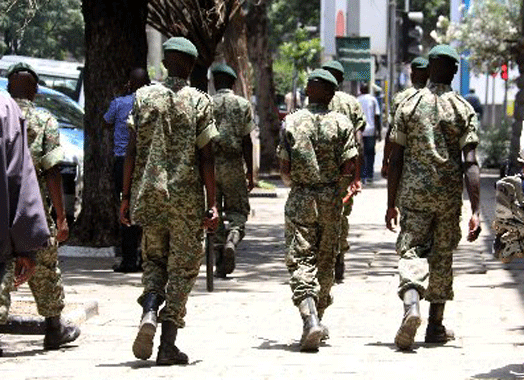 Nairobi's streets remained desolate, as most businesses shut their doors out of concern for violence. The police headquarters sent teams out to monitor the situation across the nation.
The police are now using CCTV cameras to keep an eye on the situation, and by the time we were publishing this article KDF crew was already sent to the Command Center in Jogoo House. They are providing updates to those on the ground in areas with chaos and mayhem.
If the problem lingers for the three days planned, there are worries that police will become weary and disorder will result.
As of 8 am, no significant incidents had been recorded, except a few isolated road blockades that the police claimed occurred in a few informal communities.