Despite experiencing several failed relationships in the past, the renowned Tanzanian singer Rajab Abdul Kahali, famously known as Harmonize, remains steadfast in his pursuit of love.
In fact, the CEO of Konde Music Worldwide currently holds optimistic aspirations of becoming engaged and ultimately tying the knot with someone special by the conclusion of this year.
Harmonize candidly acknowledged this in a recent Instagram post, where he recounted a vivid dream he had about experiencing these significant life moments in Paris, France.
The 'Single Again' sensation consequently interpreted the dream as a positive omen, indicating that good things are on the horizon in his life.
Hence, Konde Boy prayed to God for a wonderful wife with whom he could share the rest of his life.
"Jana nimeota my engagement 🥰. But why is it Paris 🤯🥳😜.
Looks like I'm getting married this year 🤔 Mungu nijalie mke mwema!! 🙏 " Harmonize wrote.
The singer's revelation coincides with a period in which he has chosen to practice celibacy for 30 days due to his current single status.
In fact, the CEO of Konde Music Worldwide made this decision after parting ways with his curvaceous Rwandese girlfriend, Yolo, earlier this year.
The two had been together for only a short span of months, but it appears their relationship came to an end due to the considerable distance between them, as Harmonize confirmed in a prior post.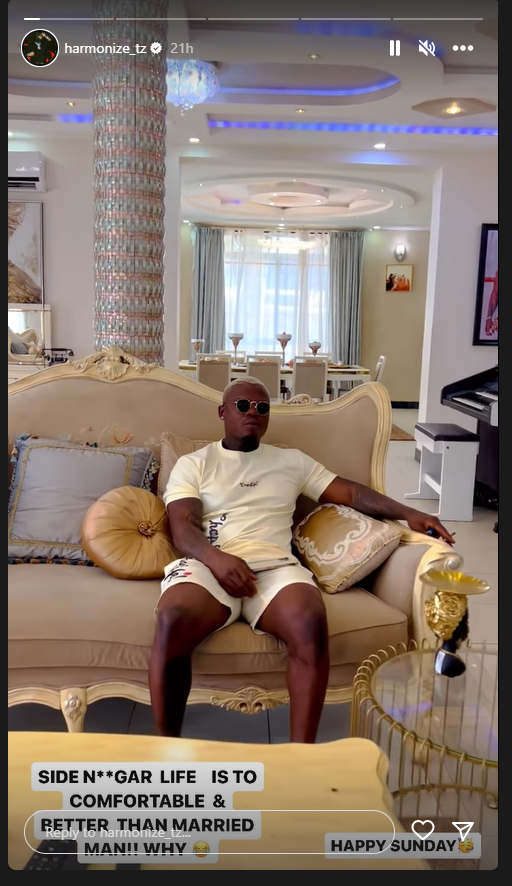 In addition to Yolo, the Bongo Flava artist has experienced other relationships that, regrettably, all concluded in heartbreak.
It's worth recalling that he was previously in a relationship with the celebrated Tanzanian actress Frida Kajala just a few months back, and they shared their admirable couple moments through photos of their time together.
At one point, the two even took their relationship to the next level by getting engaged. However, come December 2022, their relationship came to a close for reasons known best to them.
Another individual known to have been in a romantic relationship with Harmonize is the Italian beauty Sarah Michelotti.
The couple, who were together for more than three years, exchanged vows in a private ceremony in September 2019, attended solely by intimate friends and family members.
Unfortunately, Harmonize and Sarah Michelotti eventually parted ways due to his infidelity, which resulted in him fathering a child outside of their marriage.
In a February 2021 interview, the singer openly confessed that the strain of long-distance contributed to his infidelity, ultimately leading to Sarah ending their relationship and initiating divorce proceedings.
Reportedly, Harmonize was also romantically involved with the vivacious Tanzanian actress and model Jackline Wolper back in 2016.
Their relationship, however, did not stand the test of time, as they went their separate ways just a year later. It is said that their breakup was tumultuous and complicated.