In the ongoing Qatar 2022 World Cup, of the five African teams that represented the continent in the tournament, Ghana were the first to score, with two goals from Andre Ayew who found the back of the net from Muhammed Kudus' assist and a goal from substituted Osman Bukari.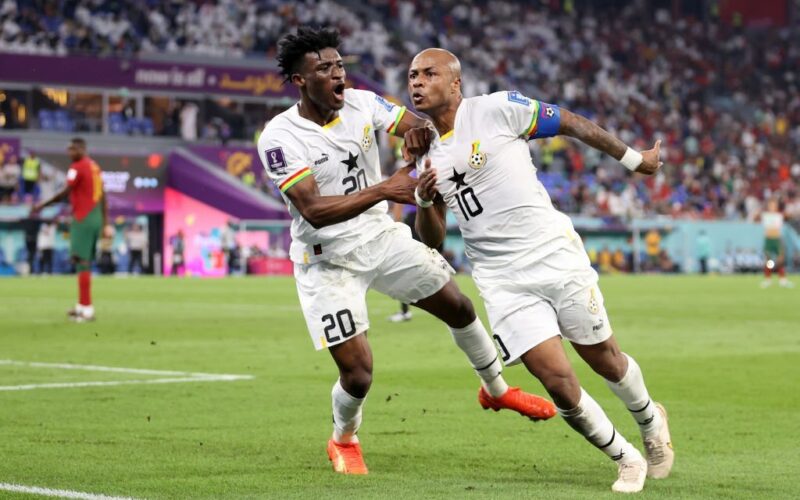 The Ghanaian side is currently losing to Portugal after Cristiano Ronaldo's goal from the spot in the 65th minute, Joao Felix's 78th-minute strike, and Rafael Leao's in the 80th minute.
It started with Senegal which played the Netherlands with high hopes that the team will clinch a victory over the Dutch team, viewers were disappointed to see two late goals from the orange side.
The Indomitable Lions of Cameroon became the latest African casualty at the global soccer fiesta, losing 1-0 to European side Switzerland in a Group G tie on Thursday.
Although for the first time, all African nations are being coached by home-grown gaffers, the results are so far not going the continent's way until Ghana came into the picture.
Despite the loose to the Portuguese side, Ghana became the first African team to find the back of the net in this years world cup.
In a match that saw Cristiano Ronaldo being crowned man of the match after a tremendous performance and scoring for Portugal from the spot. He was then subbed off before the match ended.
Ronaldo became the first ever player in the history of football to score in 5 different world cups.
However, there was drama and misunderstanding of Ronaldo's goal from the spot where many people thought that the referee should have been invited into the VAR to check as there was a feeling that the forward had dived in the box and that shouldn't have been a penalty.
Portugal bagged all the three points to top their group as the first round came to an end yesterday.