Of the five African teams competing in the Qatar 2022 World Cup, Ghana was the first to score twice through Andre Ayew, who scored off an assist from Muhammed Kudus, and once through Osman Bukari, who entered the game as a replacement.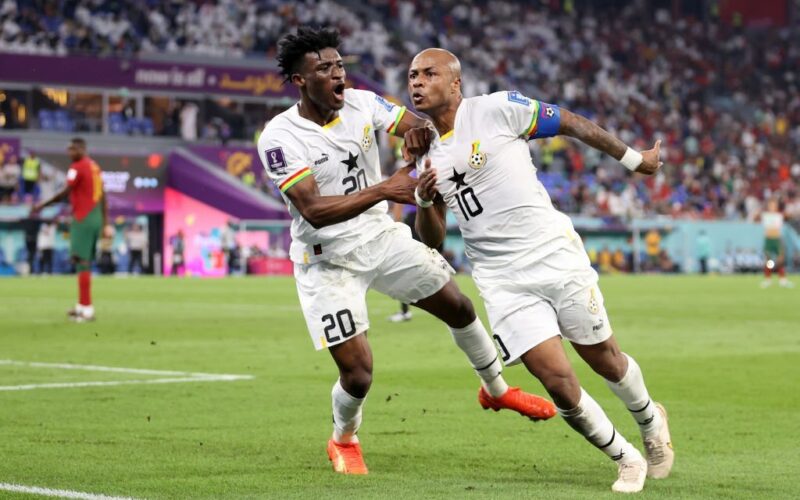 Following goals by Cristiano Ronaldo from the penalty spot in the 65th minute, Joao Felix in the 78th minute, and Rafael Leao in the 80th minute, Ghana is currently trailing Portugal.
With strong expectations that the team would defeat the Dutch squad, Senegal played the Netherlands in the first match. Viewers were let down by the orange team's two late goals.
The Indomitable Lions of Cameroon lost 1-0 to Switzerland on Thursday in a Group G match, becoming the latest African team to leave the international soccer extravaganza.
Even if all African countries are now being taught by native coaches, until Ghana entered the scene, the continent's fortunes had been bleak.
Ghana scored the first goal scored by an African team at this year's world cup, despite the loss to the Portuguese team.
Cristiano Ronaldo was named the game's MVP after making an outstanding effort and converting a penalty kick for Portugal.
Ronaldo became the first player in the annals of football to score. In five different world championships.
However, there was controversy and miscommunication around Ronaldo's goal from the spot. Many people felt that the referee needed to have been summoned into the VAR to examine since they believed the forward had dived into the box. It shouldn't have been a penalty.
Yesterday, as the first round finished, Portugal won all three points to take first place in their group.