The Shimoni Fishing Port Project in Kwale County will require Kes2.1 billion in building costs, according to the Kenya Ports Authority (KPA).
The construction of the Shimoni port is anticipated to positively benefit trade and economic growth through extensive fish sector exploitation supported by a ready market and value addition that will encourage the formation of special economic zones.
According to Benjamin Tayari, chairman of the KPA board of directors, the long-awaited Shimoni fishing port is being built as part of government initiatives to advance fisheries in the coastal region.
According to Tayari, Kes2.5 billion has already been set aside for the industrial fishing port, and as time passes, more money will be invested in the project.
He revealed that the basic infrastructure development of this new modern fishing port would be built using KPA resources entirely.
Mr Tayari said Kenya currently has no dedicated fishing port and that the Shimoni port, which will have a market hall, cannery, storage facility and wastewater treatment facility, will be the first in the country.
The KPA chairman said they are investing massive amounts of money in port development infrastructure that will boost fishery activities in the Indian Ocean and attract more investors in the value production chain.
Further, he noted the initial funds would be used for phase 1 of the civil-related infrastructure works, including buildings, pavement works, roads and stormwater constructions of the fishing harbour.
Speaking when he paid a courtesy call on Kwale Governor Fatuma Achani, Tayari indicated that the strategic project, which is a top priority project, would spur the growth of the blue economy sector.
He said the new fishing harbour would act as a growth engine of the coastal region's economy and boost several thousand fisher folks' livelihoods.
"We thank President William Ruto who has given us priority to fast track construction of Shimoni Port. We already have a contractor on site and we want to ensure that the project is undertaken within the set time frame," said Tayari.
He said the construction of a fishing port facility including piers, integrated cold storage and ice block machines will enable local fisher folk to use the well-equipped fishing port, thus increasing the added value of marine products.
During the visit, Governor Achani handed over the title deed for Shimoni Port to the KPA Board Chairman.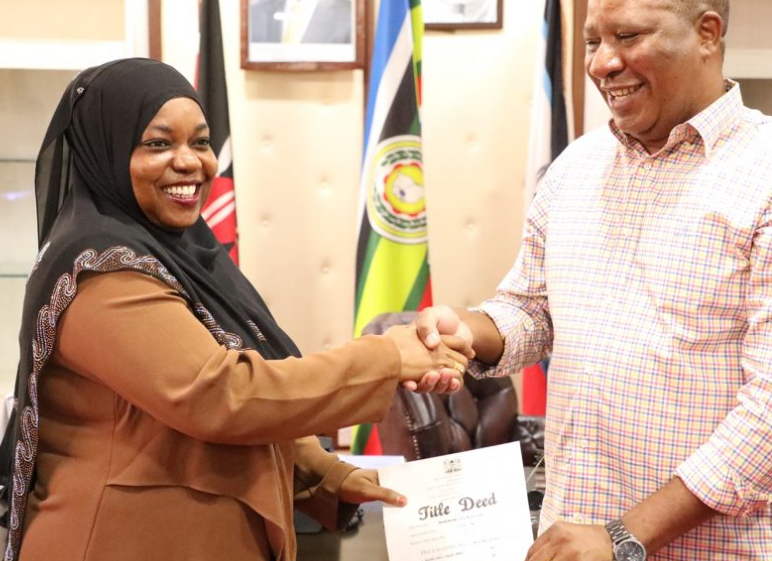 She expressed
her commitment

to ensuring the successful development of the Shimoni Fishing Port spearheaded by KPA, which is expected to be completed within 24 months.
"As a county we are ready to give all the required support to fast track construction of the Shimoni Port," she said.
The county boss said the devolved unit fully supported the project and will continue working closely with KPA to ensure the project is completed on time.
She said the new project would transform fisher folks' lives and lead to the sprouting of fish processing industries, which would significantly boost job creation and economic growth for the region.