Kapamia is Kenya's most popular crash betting website, and it is licensed and authorized by the BCLB under License No. 0000420.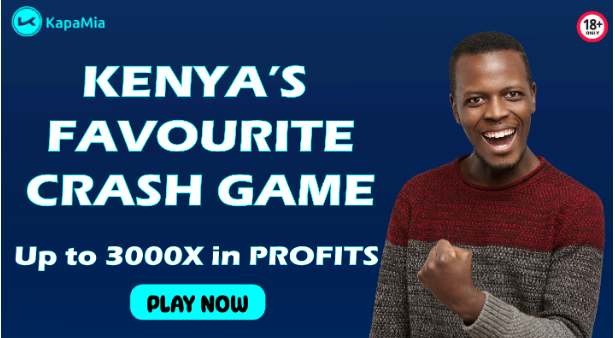 Kapamia gives you a chance to win Ksh50,000 after 30 seconds with a stake of Ksh 10 and up to Ksh1 million daily. No more waiting to cash out because you can cash out anytime you feel like doing so via mpesa.
Stake/Bet Amount

Kapamia allows you to place a bet of as low as Ksh 10, Ksh500, Ksh 1000 and more. The higher your bet is, the higher the reward.  You are also entitled to Bonuses and Free Bets the more you play.
Odds
It gets better with kapamia, as you can play with your odds from 1.01 up to 3,000. 
The best part is that you can cash out your money even before the bet settles.
The first step to playing kapamia is to register an account, registration is as easy as it gets because it takes less than 60 seconds.
How to Register a kapamia Account
Head over to kapamia.com
Select register/login
Key in your preferred phone number
Pick the username you want to use
Register your account and wait for a confirmation message via SMS
Proceed to bet on  kapamia.com
Registering for an account has never been this easy. Now let's place a bet and win big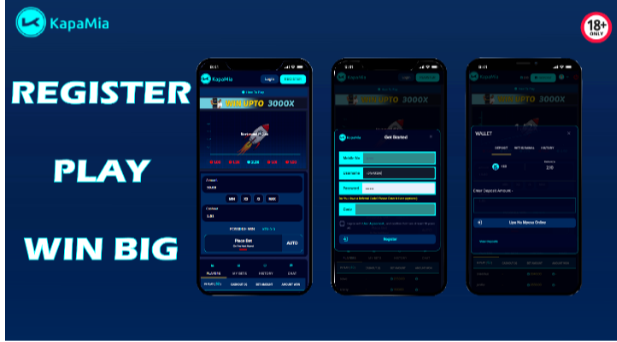 How to Deposit Money Into kapamia Account 
Open your account and click on deposit.
Enter the Amount you'd like to deposit and click on Lipa Na M-Pesa Online, then wait for a prompt
message.
Enter your M-Pesa password
Another option is to use the pay bill.go to the mpesa menu
Select the Pay Bill option 
Enter the business number - 290060 
Enter the A/c number - which is your phone number
Enter the Amount you would like to deposit, e.g. 100
Enter your PIN and click send 
kapamia allows you to verify your deposit and ensure that the deposited amount is reflected in your account.
How to Verify Deposit on Kapamia
You can verify your deposit by clicking on verify deposit option in your account.
Enter the M-Pesa code then click verify
Now that you have deposited and verified, you can proceed to play kapamia
How is kapamia played? 
Enter your bet amount, e.g. Ksh100, and click BET. 
You can optionally enter an Auto Cashout (Ksh100) value to let the system cash out for you
automatically.
Once the graph rises, click on Cashout @ x to cash out manually, or if you bet automatically, the system
will cash out for you. 
If the graph ends before you cash out, you lose.
You also lose when the graph fails to reach your bet odd or crashes before you manually cash out.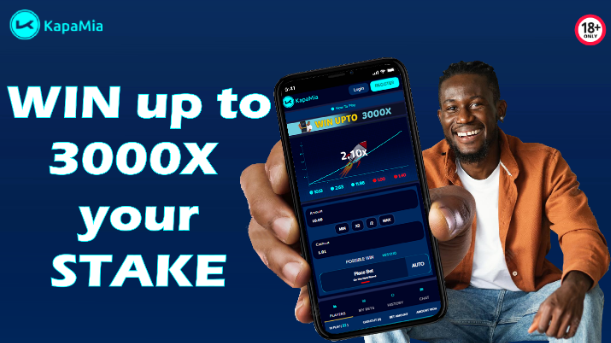 How to Cashout in kapamia 
If you set the system to bet for you automatically, it will interrupt the rising graph at the odd you placed.
If left empty, you cash out manually
Keywords to understand before playing kapamia
Profit
This is the amount you make on top of your stake, Calculated by the difference between your stake and
total win after betting.
Win Chance
This is the probability of winning in relation to the Auto Cashout value.
How to Withdraw in Kapamia
Enter the Amount you want to withdraw.
The money will be deposited in your M-Pesa account for the registered phone number. 
Note that, 20% of your winning amount is subject to Withholding Tax in the Income Tax Act.
Refer & Earn Money With kapamia 
With kapamia, you earn from your money, friends, and other referrals. 
You will earn 2% on every deposit you make. 
 Share your referral link with your friends and win extra money
For help and other queries, call kapamia  on; 0111 013 100
Remember! Gaming can be addictive and is strictly not for persons under the age of 18. Bet responsibly.