Opposition leader Raila Odinga organized anti-government protests but descended into chaos as police clashed with demonstrators nationwide.
On Wednesday, July 19, the anti-Kenya Kwanza government demonstrations' first day left a path of devastation.
The protest was deemed illegal by the Inspector General of Police, Japhet Koome, like the previous demonstrators, which led to a violent altercation between the police and protesters.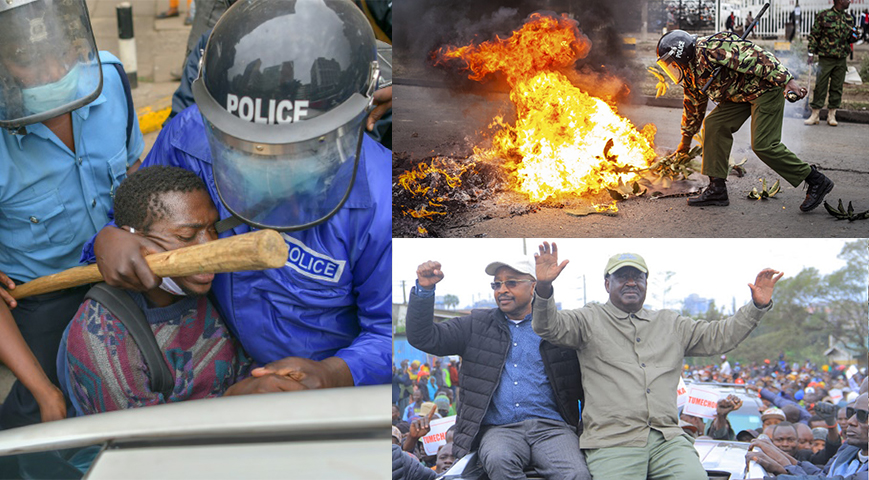 Three fatalities recorded in Nairobi
According to Citizen TV, the country's violent clashes resulted in seven fatalities and more than 38 injuries.
Three persons were shot dead by police in Nairobi, while three more in Mathare and Kibra were seriously wounded. Anti-riot police allegedly shot and killed one person in Nakuru county while injuring nine others.
One protester was killed in each city of Migori, Kisumu, and Makueni, while 21 others suffered life-threatening bullet wounds. The police are also accused of shooting a demonstrator in the chest in the Makueni, Emali district.
After a bloody altercation between demonstrators and police in the ODM leader's native county of Siaya, five persons were taken to the hospital with serious wounds.
The voice of the People must be heard. Our peaceful protest continues. #MaandamanoWednesdayToFriday pic.twitter.com/cMwaKhr9ey

— Raila Odinga (@RailaOdinga) July 20, 2023
Raila charges the cops with deploying live ammunition.
In a similar event, the former prime minister revealed that police had shot innocent Kenyans taking part in the anti-government protests using live ammunition.
The former prime minister, who was out of town when the protests began on Wednesday, July 19, criticized the police on his social media website for using too much force to disperse the demonstrators.
According to the young man, Raila posted a video of a young person being shot with a live bullet fired by anti-riot police. "This illegal regime is using live ammunition to target innocent children. Completely unnecessary, unjustified, and uncalled for."