After breaking another record as the first player to ever score in 5 World Cups in a row, Cristiano Ronaldo now seems unstoppable.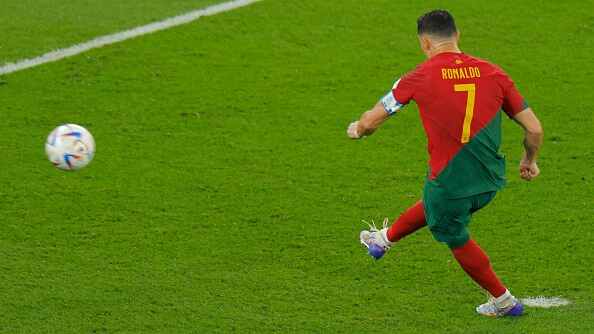 In Qatar, where the FIFA 2022 World Cup is currently taking place, the Portuguese forward played in his sixth world cup. The forward, who led his nation's team in their inaugural encounter against the Black Stars of Ghana, made a historic appearance.
Ghana scored in the game, becoming the first African nation to do so in the international tournament currently taking place in Qatar. Ronaldo scored from the penalty spot after being fouled in the penalty area.
Before the drama of more goals that followed, Ronaldo's 118th international goal from the penalty spot the referee gave for a foul on Mohammed Salisu appeared to be the game-changing goal.
Ghana's reaction was forceful. Kudus poked Diogo Costa's hands before running down the left and sending in a low cross that was diverted off Danilo Pereira and fell beautifully for Andre Ayew to transform the ball in from close range.
Portugal was now responsible for responding, and they successfully scored twice in three minutes to seal the victory.
Bruno Fernandes, who played a crucial role in both goals, expertly manoeuvred passes through the defence of Ghana for Joao Felix and Rafael Leao, with the latter scoring his first goal for his country.
Rafael Leao scored Portugal's first international goal shortly after being inserted as a replacement in the match's second half after Cristiano Ronaldo's exit.
Portugal seized control of the game right away and came dangerously close to reaping the benefits of their early dominance of possession.
Just in the opening encounter of Group H, which Portugal won in the first round of the group stages, Ronaldo set a new world cup record of five goals in five appearances.