The cooperative bank has posted a 33.3 per cent increase to Kes22 billion profit for the full year ended December 31 2022, compared to the Kes16.5 billion reported in 2021.
The growth has seen the Bank announce a Kes8.8 billion dividend payout to shareholders translating to a dividend of Kes1.50 per share, a 50 per cent increase compared to the Kes1 paid out in 2021.
Speaking during the AGM, Cooperative bank CEO Gideon Muriuki, said the strong performance is in line with "the Group's strategic focus on sustainable growth, resilience, and agility.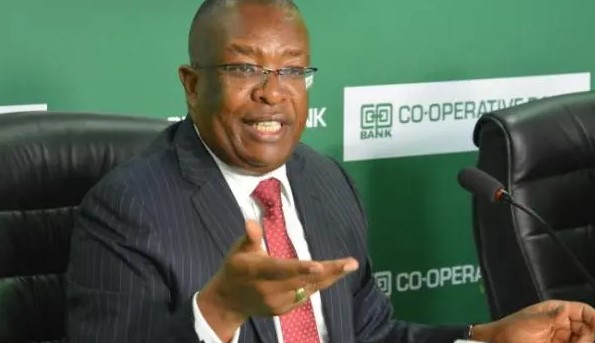 Further, the Bank maintained sustained growth as operating income grew by 17.9 per cent from Kes60.4 billion to Kes 71.3 billion in the year under review.
The Group's loan book grew by 9.4 per cent, with Kes 339.4 billion disbursed in net loans and advances to customers, up from Kes310.2 billion in 2021.
The growth saw the Bank's total net interest income grow by 10.9 per cent from Kes41 billion to Kes45.5 billion and non-interest income grows by 32.7 per cent to Kes25.7 billion from Kes19.4 billion.
With the Group prudently making Kes8.7 billion in provisions, which have raised the bank's Loan Loss Reserve/Coverage levels to 74% from 69.% in 2021, credit control continues to be a major area of attention.
From Kes579.8 billion in 2021, deposits increased to Kes607.2 billion in 2018.
The total assets at year's end were Kes607.2 billion, up 4.7% from Kes579.8 billion at the same time last year.
Equally, the total operating costs increased from Kes38.1 billion to Kes42.2 billion, a 10.9% increase.