Amber Ray's husband Kennedy Rapudo is reportedly said to be in the process of selling his Range Rover. As per information shared on Edgar Obare's page, Rapudo has listed the car for sale at Ksh 9.9 million. This comes amid rumors of him being ousted from their apartment.

The post sparked diverse responses from fans, with some expressing concerns about potential financial struggles for the couple. Meanwhile, others argued that Rapudo had the prerogative to sell his car if he deemed it necessary.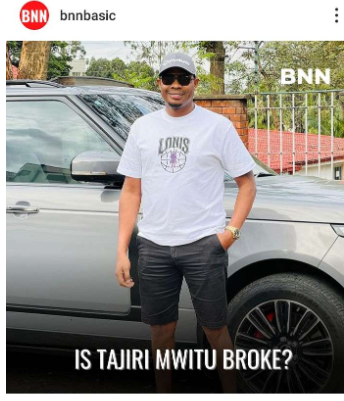 This development follows the recent eviction of the couple from their upscale Kilimani apartment. As reported on Edgar Obare's page, Amber Ray and Kennedy Rapudo faced eviction due to overdue rent arrears. Subsequently, their former apartment is now available for rent at Ksh 270,000 per month.
The post garnered a significant amount of criticism, with many expressing disapproval of Amber and Kennedy Rapudo for purportedly fabricating their extravagant lifestyle. Some individuals disclosed that the couple had allegedly staged a fake breakup to discreetly vacate their residence without attracting attention.
In response to the post, Amber Ray took a stand to defend her family, emphasizing that she did not fabricate the breakup. She clarified that she wouldn't engage in clout chasing, especially when it pertains to such a serious matter.
The couple officially parted ways in October, with Rapudo being the first to confirm the unfortunate news. He shared that an incident occurred on the 13th of October, leading to their breakup. Rapudo disclosed that both parties were under the influence of alcohol at the time.
Amber Ray's husband is purportedly selling his Range Rover amid claims of being evicted from their apartment.
He publicly appealed to Amber Ray for forgiveness, expressing profound remorse for his actions and a sincere commitment to reform. While he didn't specify the details of the incident, Rapudo conveyed a strong determination never to allow a recurrence of such events.