Siaya governor James Orengo has urged retired President Uhuru Kenyatta to hold steady in the face of threats from Kenya Kwanza leaders to deny him a pension for refusing to resign from active politics.
Orengo has encouraged Uhuru not to be scared of anyone since his primary source of income is the goodwill of Kenyans who still love him.
He advised the former President to stay put and continue his political efforts since the Kenyan people supported him.
"Kenyans will pay you your pension, let alone Ruto's." "Do not be shaken; remain firm," he said.
The Siaya governor, speaking during a meeting with the Maendeleo Ya Wanawake Organization members at the County headquarters, urged President Ruto to leave Uhuru alone, arguing that he should focus on solving the country's problems rather than engaging in petty witch hunts.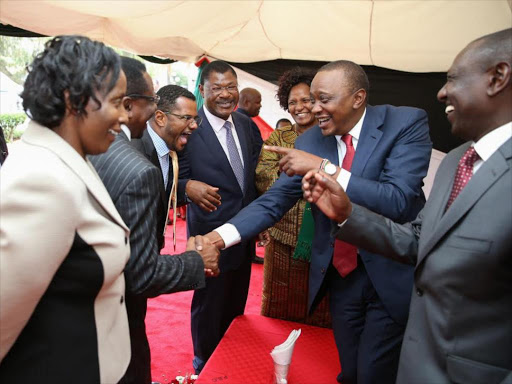 Orengo believes that instead of criticizing Uhuru Kenyatta's rule for every problem plaguing the country, Ruto should focus on solving such issues.
"He is blaming Uhuru Kenyatta for the high cost of living; what has he (Ruto) done?" Allow him to leave Uhuru alone."
Concerning the ongoing bipartisan discussions, the governor has requested Azimio leader Raila Odinga to call for a resumption of nationwide protests if the bipartisan team fails to address their issues.
He claimed that because protests are the language President Ruto hears the most, they will not have any option but to return to the swamp.
"If they continue to meddle in our parties as they did with Jubilee, we will leave them alone." We will leave them alone if they refuse to lower Unga prices. "We'll go back to the streets if you say so," he said.