Transparency International, an international organization with a branch in Kenya, has made the decision to withdraw the 2019 Leadership Integrity Award from the Director of Public Prosecutions, Noordin Haji.
The organization cited concerns raised by the public and their integrity-focused partners in Kenya, particularly regarding the questionable withdrawal of high-profile corruption cases within the country. Transparency International emphasizes the importance of upholding the highest standards of integrity for all recipients of their awards, leading to their decision to withdraw the accolade from Noordin Haji.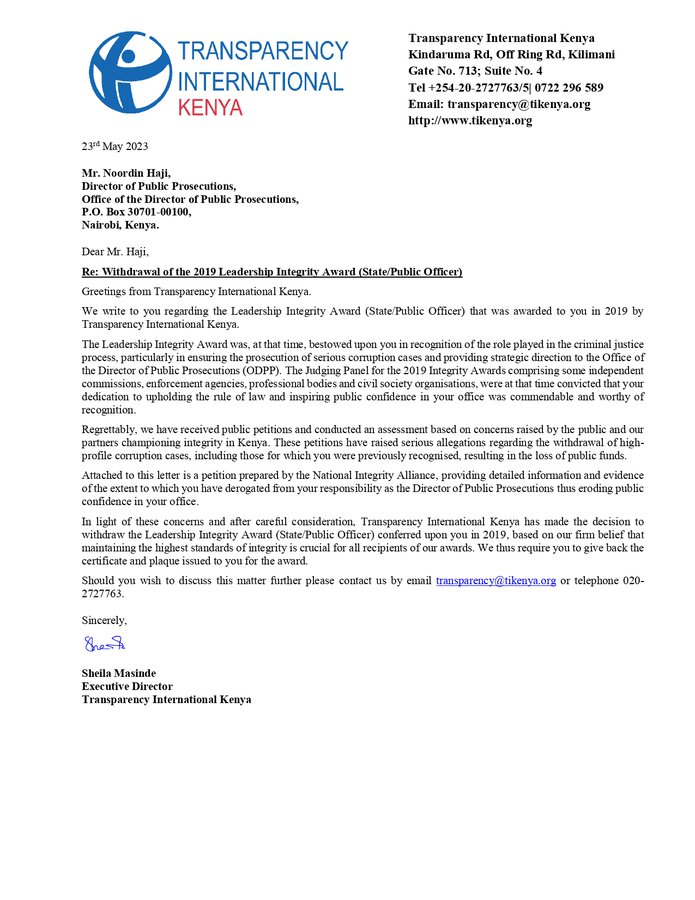 Transparency International has expressed its belief that the Director of Public Prosecutions, Noordin Haji, made decisions to charge or withdraw certain high-profile cases without conducting an objective and professional analysis of the available evidence.
Withdrawal of the 2019 leadership integrity award from Mr. Noordin Haji

Our assessment based on concerns raised by the public & our partners championing integrity in Kenya – regarding questionable withdrawals of high-profile #corruption cases has led to the decision to withdraw… pic.twitter.com/dZRoZskBAJ

— TI-Kenya (@TIKenya) May 26, 2023
Coinciding with this development, President [Name] has nominated Nordin Haji to assume the role of the new Director General of the National Intelligence Service (NIS).
Meanwhile, a lobby group has issued a threat to challenge Haji's nomination as the NIS Director General in court, citing concerns over integrity issues.