Since the August 8th elections, the rift between the two separate groups within IEBC has been widening. The IEBC Chairperson, Wafula Chebukati, seems to lead one team, and his vice chair Juliana Cherera leads another team within IEBC.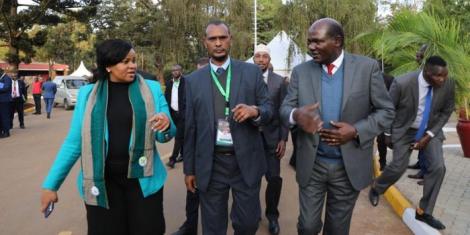 It is yet to be determined who might replace the current IEBC Wafula Chebukati due to the petitions yet to be determined.
"The petitioner should tell us who Juliana Cherere is... we don't have such an Employee in IEBC" -- Lawyer Apollo Mboya.
LIVE -- https://t.co/i2Y0XjN5b4
.
.#OpaqueFourHearings | Politics | #Newsupdates | #UzalendoNews | Rigathi pic.twitter.com/xVxgAtXCSA
— Uzalendo News (@UzalendoNews_KE) November 24, 2022
On Thursday, 24, Azimio members stormed out of Cherera 4 IEBC Commissioners hearing in Parliament.
The four IEBC commissioners led by vice chairperson Juliana Cherera and members; Irene Masit, Francis Wanderi, and Justus Nyang'aya have resurfaced with a message alleging why they chose not to attend the hearing of the petition that was aiming to kick them out of office for misconduct during the August presidential election.
Speaking via a report covered by the Standard, the four undisputable commissioners now allege that the national assembly justice and legal affairs committee lacked jurisdiction to hear the petition on ouster.
" The Committee lacks Jurisdiction to hear the petition on ouster", they revealed.
The petitioners argue that the four IEBC commissioners went against the official position of the IEBC on presidential election results, amounting to what they refer to as gross misconduct and violation of the Constitution.
Their lawyers also termed the process unconstitutional, alleging that their clients enjoyed immunity as public officers, hugely turning their backs away from the National Assembly Justice and Legal Affairs Committee ( JLAC).
Lawyer Jonathan Orwa, who represented Justus Nyang'aya, reinstalled the Committee of privilege alongside that of Parliament that deals with the conduct of members and not the branded ' JLAC'.
It's worth noting that according to the law, the four commissioners can only be ejected from office if they are physically or mentally incapacitated or seriously violate the Constitution.