An excellent professional relationship at work is a very critical thing. Working can be difficult in cases where there needs to be better communication or relationship between employees. Now, IEBC is a very important body in this country. Kenyans had their eyes on the commission, trusting that they would conduct a free and fair election.
It is a pity to realize that there were commissioners who were not on good terms even before Kenyans realized this other rift between the same commissioners just before the presidential results were declared.
Former IEBC chair Wafula Chebukati revealed what Commissioner Irene Masit told him before the August 9 elections. According to Chebukati, Masit reportedly complained that working with Commissioner Francis Wanderi did not make her feel comfortable, which is why he handed her additional responsibilities.
Speaking to Justice Muchelule's led tribunal, Chebukati clarified that Masit came and informed him that she could not cooperate with Commissioner Wanderi.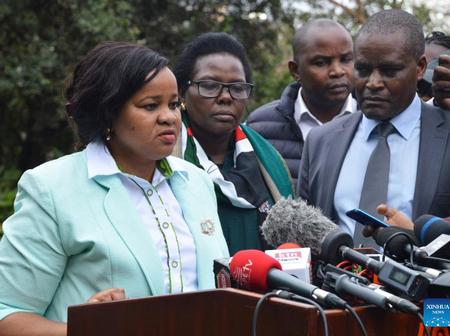 In the narration, Former IEBC chairman Wafula Chebukati said commissioner Francis Wanderi admitted to him that working with Masit had made him uncomfortable. The IEBC chair claims that as a result of the results, he changed how he did business and gave the two Commissioners separate responsibilities.
Wafula Chebukati claimed the two commissioners' alleged conflicts may have been a pretext for their covert efforts to rig the elections, according to IEBC chair Wafula Chebukati.
According to Wafula Chebukati, the four IEBC commissioners allegedly did everything they could to ensure that the election was declared illegitimate. Mr. Chebukati wants the law to be applied to everyone who obstructed the performance of their duties, not only the commissioners.
Mr. Chebukati said he had no issue with Irene Masit's work ethic until August 8, when she disowned the results.
According to Wafula, Irene Masit, a commissioner, was of the opinion that the results of the 2022 presidential election should be in Raila Odinga's favour, according to the former IEBC chairperson.
The chairman argued that commissioner Masit agreed with Senators Wako and Tuju's comments that IEBC was to limit the outcomes. Chebukati did not buy the idea but argued that elected officials must uphold the people's will and their oaths of office.
Although the chairperson cited that Irene and Wanderi could not work together, the exact issue was left out.
Or what do you think? Do you think their said conflict was a plot to rig elections?